NFT: Collectibles and Generative Art
Collectible vs generative art
Collectible and generative art in the NFT space have some differing attributes.
Collectibles, often referred to as PFPs ("profile picture") are generally large collections, commonly of around 10,000 NFTs. Each NFT in the collection has a unique set of traits of varying rarity (e.g. hat, cigarette, laser-beam eyes, alien, etc.) and so forms a unique variation of a single figure. Many of the highest-priced NFT sales are from collectibles.
In contrast to fine art NFTs, collectibles are often issued and run by a team of people instead of a single artist, and can double as membership cards, granting access to events, websites, investment research, future NFT drops, and even voting rights on future strategy. In addition, in some cases there are wide-ranging licensing rights involved, allowing owners to use their NFTs commercially (for example, Adidas' Into the Metaverse campaign featuring Indigo Herz, their Bored Ape – link). NFT teams and their owners have turned some collectibles into large, global brands.
Technically, collectibles are forms of generative art, as described in more detail below, because they are made by a randomizing algorithm. However, as they have other utility and are generally not as sophisticated, people usually do make a distinction and do not see them purely as 'art'.
Generative art is, in essence, created from a combined effort by an artist and an autonomous system. Usually, it's based on the artist's code but includes a source of randomness for production of colors, patterns, and shapes. Therefore, in many cases the artwork is created autonomously, based on an initial set of instructions from the artist. As the artwork is only influenced by the artist, but generated by the underlying computer program, the outcomes of the original artwork cannot be fully predicted until the process is complete.
In many cases, there are three key elements to generative art: randomness, algorithms, and geometry. These enable amazing results with beautiful visual effects, while not being pre-defined by the artist.
History of generative art and its combination with blockchain
Generative art existed since long before blockchain, and is not exclusive to it either – but their combination introduced new possibilities and popularity. The beginnings of generative art trace back to the 1960s, with computer art pioneers like Georg Nees, Vera Molnàr, Harold Cohen, and Charles Csuri, experimenting with early mechanistic technologies to create autonomous art-making systems.
By combining generative artworks with a blockchain, they gain a new layer of complexity – they can receive specific inputs at the time of the mint and reside, immutable, as live code on-chain. So users can view the live image of the piece – not just a PNG image stored on a server or on IPFS, but a string of code that generates the image on request. See link for an example.
Well-known projects and artists
CryptoPunks: this project was launched as an experiment in 2017 by the newly founded Larva Labs. The collection consists of 10,000 unique, 24x24 pixel art images, depicting punks with randomly generated features, such as glasses, hats and the like. The project has inspired the now widely used ERC-721 token standard for NFTs. Multiple CryptoPunks appear on the list of most expensive NFTs – notably, CryptoPunk #5822 (shown below) was sold for approx. $23.7m. More information and the collection of CryptoPunks can be found here.
Bored Ape Yacht Club (BAYC): Yuga Labs, the parent company of Bored Ape Yacht Club, launched the minting on 20 April 2021. It's a collection of 10,000 unique ape images, each featuring different attributes. Holders of a Bored Ape Yacht Club NFT own the intellectual property rights for the image, thus allowing them to create their own brand on the back of the brand awareness of BAYC. Additionally, each holder is granted access to exclusive in-person events and a private online club. The full collection of BAYC can be viewed on OpenSea here.

Autoglyphs: considered the first on-chain generative art project on the Ethereum blockchain. Also founded by Larva Labs, the Autoglyphs project went live in 2019. Users were able to mint 1 of 512 pieces for a minting fee of 0.2 ETH (the current floor price on OpenSea is 250 ETH). The revolutionary technique behind Autoglyphs is that the algorithm creating the artwork is stored in the smart contract itself, instead of simply pointing to an off-chain source. More information on the project can be found here and the full collection can be viewed on OpenSea here.
Chromie Squiggle: created by Erick Calderon (aka Snowfro) in 2020, these were the first curated collection built on the Art Blocks platform, which Calderon also founded. Art Blocks is the leading platform exclusively focused on generative art and facilitates its production, sales and storage. Collections built on Art Blocks are minted using a specific hash for each output, making the art piece unknowable for the buyer until after the mint is processed. Collections are curated by the Art Blocks team, selecting certain pieces for the 'Curated' section. Other works of curated artists are displayed in the 'Playground' area, while everyone is able to submit pieces to the 'Factory'. Use this link to check out the platform, and find more information about Chromie Squiggles here.

Fidenza: this was released in June 2021 as a curated artwork on Art Blocks. It's the best known algorithm by Tyler Hobbs – a former computer engineer turned full-time artist. The artworks could initially be minted for 0.17 ETH. Notably, Fidenza #313 was sold for 1,000 ETH only about 10 weeks later. Explore the full collection on OpenSea here.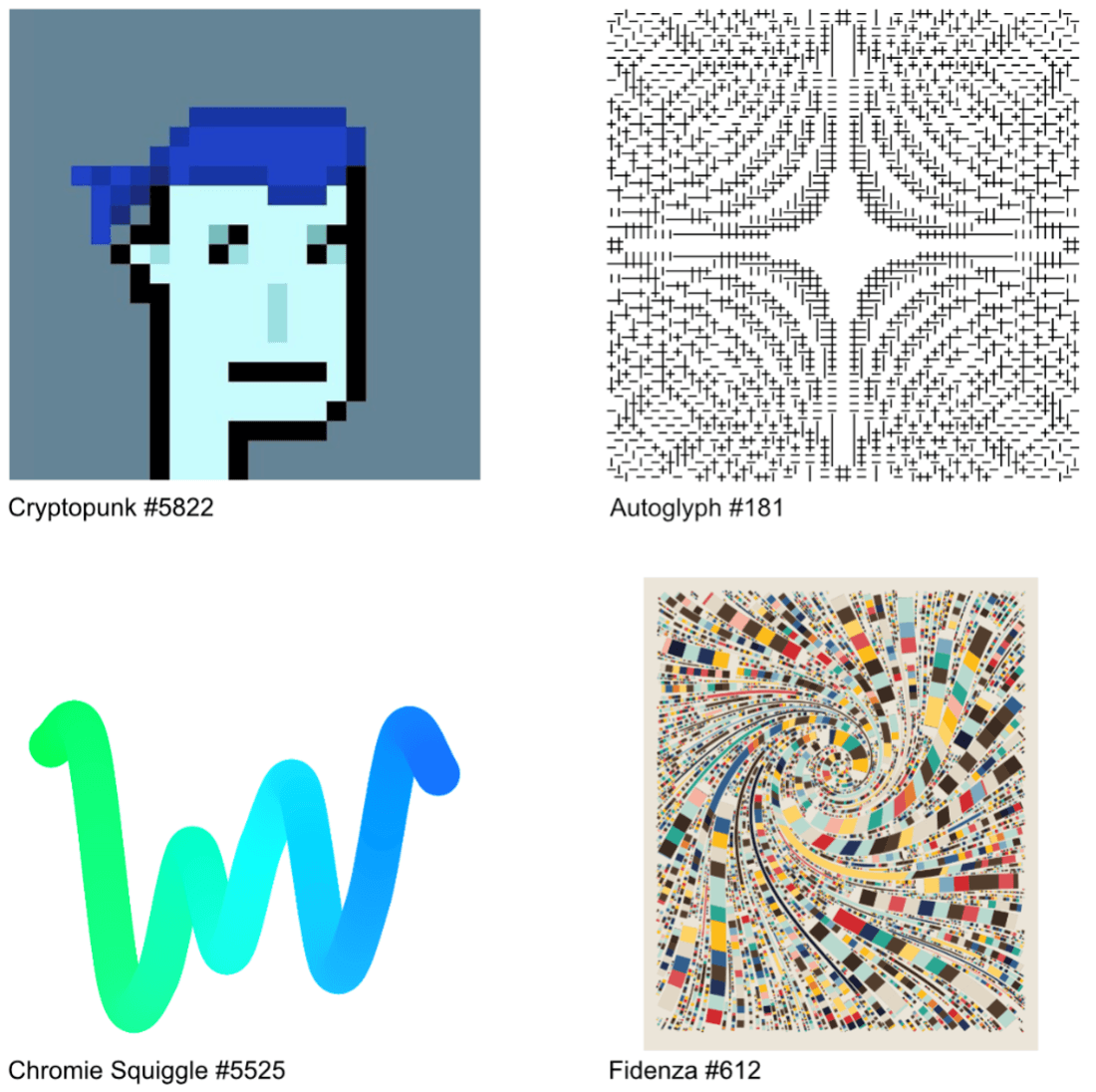 Implications for artists and the art market
NFTs provide artists a new opportunity to earn a living, even a financially lucrative one. They can earn two types of fee with NFTs: 1. proceeds from primary sales, and 2. royalties from secondary sales. Take Tyler Hobbs and his Fidenza artwork as an example. Typically, an artist is not well known at the beginning of their career, thus each Fidenza was initially minted at a price of only ETH 0.17 ($400 at the time). But due to the collection size (999 pieces), this generated ETH 169.83 ($400,000) in primary sales for the artist. However, today the floor price of the collection (i.e. cheapest offering price) is ETH 96.00 ($130,000) for a single item. Since the collection was launched in June 2021, it has generated a total of ETH 52,000 in sales. Tyler Hobbs also set a secondary royalty fee at 7.5%, allowing him to benefit from appreciation in the price of his works – resulting in revenue of ETH 3.9k ($5.3m at the time of writing).
NFTs break the existing conventions of the art market. They make art accessible to everyone (although not always financially accessible) and sale prices are anchored on the blockchain, increasing transparency and laying the foundation for a dynamic market. This creates more demand in a marketplace than a traditional auction house does. For example, OpenSea, the largest NFT marketplace, facilitated $14 billion in sales volume in 2021. In comparison, the two largest auction houses, Sotheby's and Christie's, had combined sales of $14.4 billion in the same year. Naturally, any collection of collectible or generative art may contain rarer pieces for which pricing is more challenging, and where traditional auctions may be more appropriate. Hence, Christie's and Sotheby's, for example, achieved NFT sales of $150 million and $100 million, respectively, in 2021. Although NFT prices and sales volumes dropped significantly in 2022, auction houses are positioning themselves for the next upswing – for example launching their own NFT marketplaces, as Christie's did with Christie's 3.0 in late September 2022. Current market dynamics show that conventional auction houses and newer NFT marketplaces complement each other – most importantly, both have an incentive for NFT art to be respected in the art market as the total market grows. Overall, the NFT art market delivers a win-win for artists, collectors, marketplaces, and auction houses.